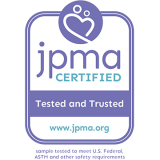 WHY IS JPMA IMPORTANT AND WHAT IT
MEANS FOR YOUR FAMILY?
THE SAFETY OF OUR CHILDREN HAS ALWAYS BEEN OUR NO.1 PRIORITY WHICH IS WHY WE, AT DREAM ON ME, HAVE ALWAYS HAD AN UNWAVERING FOCUS ON DESIGNING AND BUILDING THE SAFEST BABY PRODUCTS IN THE MARKET.
THE JPMA SEAL REAFFIRMS THIS COMMITMENT.

WHAT IS JPMA?
JPMA OR JUVENILE PRODUCTS MANUFACTURERS ASSOCIATION IS A LEADING AND TRUSTED INDEPENDENT ORGANIZATION THAT IS VIEWED AS AN AUTHORITY ON ISSUES RELATED TO SAFETY AND QUALITY OF BABY AND CHILDREN'S PRODUCTS. THE JPMA CERTIFICATION SEAL SIGNIFIES THAT THE PRODUCT MEETS OR EXCEEDS ASTM STANDARDS, FEDERAL AND STATE LAWS AND SOME RETAIL REQUIREMENTS. EACH PRODUCT SUBMITTED TO THE JPMA IS TESTED AT A CERTIFIED INDEPENDENT LABORATORY TO SEE IF IT MEETS ALL THE CERTIFICATION CRITERIA.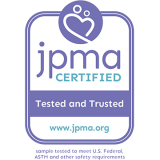 WHAT DOES A JPMA CERTIFICATION SEAL
MEAN FOR PARENTS?
PEACE OF MIND
You know that the product you are about to buy for your baby has been tested by an independent party and can be trusted
MANUFACTURER'S COMMITMENT TO SAFETY
All of Dream On Me's full size cribs, bassinets, bedside sleepers, cradles, toddler beds, and mattresses are JPMA certified. Because when it comes to our little ones, it's always - SAFETY FIRST. SAFETY ALWAYS
REGULAR TESTING
The JPMA seal indicates that the product has been tested annually to an established standard. The seal is an indicator of the product's superior safety, quality, functionality and performance.
TESTED AND TRUSTED
The JPMA is a 35 year old organization and all those who opt for it undergo rigorous testing on a variety of parameters. Rest assured, if a product has the JPMA seal, you can be confident that you are picking a safe and high quality product for your baby.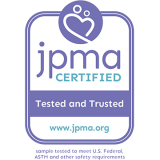 UNDERSTANDING JPMA AND
GREENGUARD GOLD CERTIFICATIONS BETTER
SAFETY HAS AND ALWAYS WILL BE OUR NO.1 PRIORITY WHICH IS WHY ALL DOM FAMILY PRODUCTS ADHERE TO THE STRICTEST SAFETY STANDARDS SET BY FEDERAL AND STATE LAWS AND TRUSTED, INDEPENDENT SAFETY ORGANIZATIONS SUCH AS THE JPMA AND GREENGUARD GOLD. THESE CERTIFICATIONS INDICATE THAT THE PRODUCT HAS UNDERGONE RIGOROUS TESTING BY A THIRD PARTY ORGANIZATION AND IT MEETS OR EXCEEDS THE STANDARDS SET BY THEM.
HERE IS QUICK REFERENCE CHART FOR PARENTS TO
UNDERSTAND THESE CERTIFICATIONS BETTER